STORAGE AND DISTRIBUTION CENTER FOR TAMPA BAY STEEL:
We have completed several projects over the past 15 years including 75,000 square feet to their distribution facility, several bridge cranes, renovated and expanded the offices, constructed a shop office and break room addition and then constructed a 31,000 square feet free standing steel service center with bridge crane. We also completely redesigned the site with over 2 acres of paved parking and roads and extended the municipal water and sewer main 1,400 feet to the site and installed a sanitary sewer pump station. Over the years we have also added thousands of square feet of 8″ slabs for various pieces of equipment inside the facility. In 2013 we completed a 20,000 square foot addition to the Metals Warehouse Building including a runway for a 10-ton bridge crane
WAREHOUSE AND OFFICE FOR INTERIOR ELEGANCE:
Another building with on grade offices and a dock high warehouse. This 12,500 square feet steel building has a 4:12 hip roof and stucco over metal panel walls to help it blend in with the adjacent retail store. We conducted extensive negotiations with the Florida Department of Transportation to allow a second driveway on US 41 without which the project could not have been built since the second entrance was necessary for tractor/trailer maneuverability. The site also required a sanitary sewer pump station.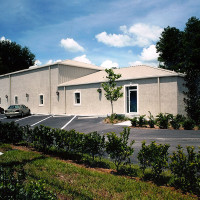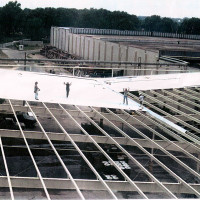 STORAGE FACILITY ADDITION AT LYKES PASCO:
A 25,000 square feet pre-engineered roof system was surrounded by buildings on 3 sides. Since rain water could not flow onto the existing roofs, an innovative inverted V roof system was designed with large PVC pipe conveying water from the valley gutter directly to a detention pond. We worked with the owner for minimal disturbance of the rest of the facility including relocation of high voltage power lines.