Design Build General Contracting streamlines the entire design, estimate, permit and construction process. As a design-builder, we get involved even before the design professionals are retained. Miller Contracting maintains complete knowledge of your entire retail construction Tampa project and coordinates the design by the civil engineer, architect and other consultants. We involve the client throughout the entire process, allowing us to give "value engineered" suggestions to our clients, resulting in innovative designs using a variety of construction techniques.
---

PASCO RETAIL CENTER:
A 3 building business/warehouse complex in Zephyrhills located on a hill which required one of the buildings to be "stepped" as it sloped toward the retention pond. A complete sanitary sewer and water distribution system was connected on site to municipal standards so that it would be maintained by the City of Zephyrhills.
---

PARTY LIQUORS:
A design-build of an 8,400 square feet masonry/steel roof building featuring open ceilings and exposed A/C duct. The project required a vertical wall retention pond, sanitary sewer pump station and force main connection and construction of a 400' turn lane on a state highway under Florida Department of Transportation supervision.
---

RUBY PLAZA RETAIL CENTER:
This small retail center uses a single slope steel building roof system with masonry walls. The roof drains directly into a vertical wall retention pond, which is a design we have frequently employed.
---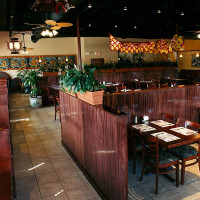 HAO WAH RESTAURANT:
This south Tampa landmark was torn down at the end of April and the new 5,000 square feet restaurant was serving food by the end of August. Building has a bar joist, metal deck, built-up roof with the bar joists and ductwork exposed in the dining room.
---

VETERINARIAN CLINIC:
The Connechusett Animal Hospital is masonry and wood truss construction with separate dog and cat entrances and a dramatic circular window in the 12′ high ceiling reception/waiting area. Extensive use of ceramic tile was made throughout the building with all kennel cages having ceramic tile walls and floors.
---

GOVIDAN RETAIL CENTER:
Designed to be constructed in 2 phases this pre-engineered steel building roof system with masonry wall retail center building had the south 4,000 feet completed and occupied when the remaining 5,000 feet was done 2 years later.