We recommend the Design Build approach to construction for office buildings since our clients have many ideas of what they need and want, but need help to distill them into a coherent design. Design Build General Contracting has the benefits of being a collaborative process between the owner, contractor and design professionals, so that we know what our clients expect before actual construction starts. This results in expedited design with cost control and fast-track construction and scheduling. View the office construction in Tampa Miller Contracting completed below.
MOORE DENTAL OFFICE:
In 2011 we built this office building for Dentists Curtis and Charles Moore. This 3,000 square foot masonry/steel deck/built-up roof building replaced a 40 year old building that we had done an addition to 20 years earlier. While the new office was constructed the doctors continued to operated out of the existing facility that was only 3 feet from the new office building. In fact, the porch on the new building and the parking lot could not be finished until the old building was torn down. However, they were able to operate for all but one week during the entire time of construction.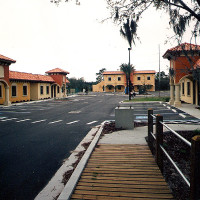 OFFICE BUILDINGS AT RSVP PLAZA:
4 office building complex with 3 smaller buildings having masonry walls with pre-engineered steel building roof systems and the larger 2 story building with elevator, masonry walls, and structural steel built-up roof. This 18,000 square foot design build project included complete interior build-outs of all 4 buildings as the spaces were leased. The site utilized 3 vertical wall retention ponds and a sanitary sewer lift station. The main entrance features a decorative iron arch over the driveway and a boardwalk through wetlands connecting the on site sidewalks to the sidewalk on the street. The development required the extension of a sanitary sewer force main in the county right of way.
OFFICE BUILDINGS FOR TURNING POINT:
Both office buildings were design build masonry and wood truss. Since the second building was visible from the first building completed 3 years earlier, it was designed with the same architectural elements to complement the original. While the entrances of the second building are on grade, the rear has stem walls since fill could not be used because of the proximity to protected wetlands. The banks of the retention pond were elevated above the existing grade requiring double masonry walls on one side and special construction of the earth banks on the other sides.
OFFICE BUILDINGS AT OLD TOWN LINEBAUGH:
A 3 building office complex with 2 of the buildings featuring frame construction with metal clad roofs and the larger building using masonry walls with a pre-engineered steel building roof system. A design build project that included restoration of a small wetland and upgrading an existing county retention pond so that it could be a design feature for the complex. The development also required a sanitary sewer force main extension including a jack and bore under the four lane street to connected to the existing system.
OFFICE BUILDING FOR GARDNER ASPHALT:
Narrow curtain wall windows and masonry walls with metal standing seam mansard panels give this pre-engineered steel building office a distinctive look and energy efficiency.
OFFICE BUILDING FOR STEVE HENRY DESIGN:
A small lot made construction of this 2 story masonry and frame office building a challenge. A glass conference room and stained concrete floors give the interior a distinctive look.
OFFICE BUILDING FOR SOUTHERN ELECTRIC OF TAMPA:
Fluted block office building with standing seam facades and vertical glass openings set this 2-story building apart. An atrium entrance with an oak staircase, together with glass walls from the owner's offices on each side of the reception area, made for an appealing waiting area.