Steel & Block Buildings
These buildings use steel framing to support steel panel roofs, but offer the added durability of masonry walls and the advantages of quicker construction. Steel and Block buildings offer many of the advantages of all steel structures and can be used for all types of projects from warehouses and manufacturing facilities to offices, retail centers and churches.
Web Partners::
This attractive building provides a central, combined location for Corporate Headquarters Manufacturing and Warehousing. The location features grade access for the offices and a loading dock for the warehouse that did not require a truck well or interior ramp.


Gardner Office:
The company decided to move their corporate office to Tampa after their manufacturing/warehouse facility was rebuilt. They lowered their construction cost without sacrificing aesthetics, by selecting a pre-engineered metal building that utilized glass curtain and masonry walls.
Paragon Music:
A steel roof structure reduced cost and masonry walls added security.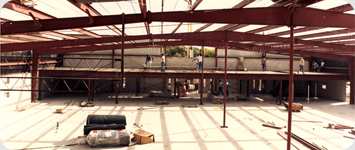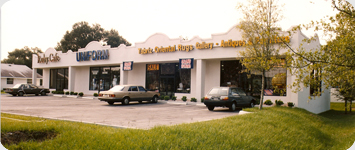 Ruby Plaza:
These clients saved money and time, but still achieved an attractive look through the use of steel and masonry construction.
St. Marks Church:
Steel and Block construction offered the congregation the expedited construction time associated with steel and the durability of masonry.